Fraser Valley Meats | KGTC Equipment Fundraiser
Get Sizzlin' with KGTC's Winter Stock Up!  The perfect opportunity to get all you need for your Winter adventures.  Check out these great deals from Fraser Valley Meats!
Help Kamloops Gymnastics | Trampoline Centre fundraise for new Gym Equipment (est. cost $20,000)
2 – Fig Performance Beams
2 – Trampoline Beds and Springs
DEADLINE TO ORDER: Friday, November 29
Estimated Delivery: Week of December 19
(Athlete will not earn Fundraising Credits, this is a Club Equipment Fundraiser)
HOW TO ORDER?
This Fundraiser is open to Members and the Public –share the link below and help KGTC meet their Equipment Fundraising Goals!
Fill out the Order Form > Fraser Valley Meats Order Form
Member Services will contact you to confirm your order and collect payment

PAYMENT METHODS: Cash, Cheque, Credit/Debit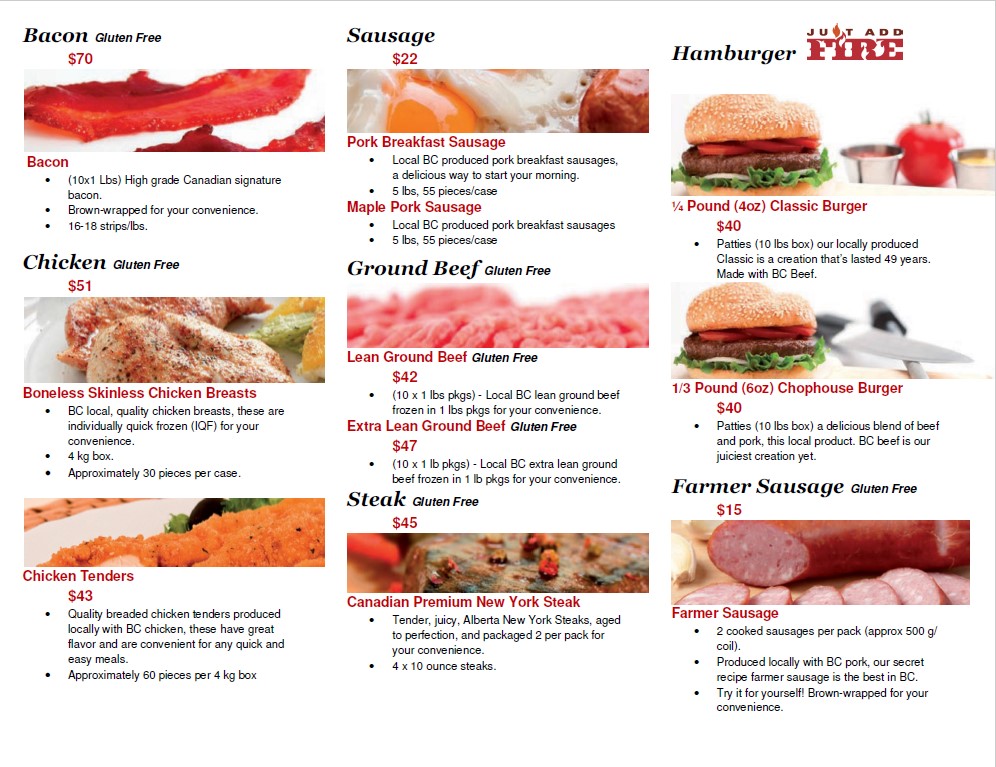 ---
At KGTC, the largest fundraising effort ever undertaken is also one of our proudest accomplishments – becoming a mainstay at the Tournament Capital Centre. Used for training by sports teams and gymnasts, competitive events and community users, the KGTC facility partnered with the City of Kamloops and moved into a new facility with newly purchased equipment. Once the facility opened, our programs and role expanded. Not only are we are a gymnastics and trampoline facility, but we also teach the fundamental skills that are the basis of all sports and a life-long love of physical activity.
Many individuals, teams and classes participate in fundraisers to receive a portion (95% of proceeds – calculated from revenue and minus expenses ) which are credited to the athletes credit account. These fundraising dollars may be used to assist athletes in competition and training camp fees, KGTC Team attire, team travel (vans, buses, airline tickets, hotels, meals booked as a team through KGTC.) Money raised through fundraising activities cannot be applied to regular training program fees. Actual funds will not be dispersed to individuals directly.
If there is a specific fundraiser for a special purpose (for example, World Gymnaestrada or a Team Travel Meet), the fundraiser must be approved and coordinated with our General Manager before any advertising or promoting of the event/fundraiser. The event or fundraiser should fit into KGTC's mission statement of providing and encouraging health, fitness and personal excellence in a safe and fun environment. The event or fundraiser must also fit into KGTC's calendar of events and must clearly state the purpose of the fundraiser. If the fundraiser is any type of "game of chance", KGTC must complete the gaming application and the final report is to be submitted to the General Manager in a timely fashion so as to ensure a new licence is available for another fundraising group.
---
How does KGTC and our Athletes fundraise? Our main methods of fundraising are:
Davison Orchards Apple Fundraiser
---
The Great Little Coupon Book
---
Cookie Dough and Cheesecake Fundraiser
---
Poinsettia, Wreaths and Table Toppers
---